Learning to swim is an essential skill for all children, especially in Australia.
Some of our best memories as a family revolve around North Queensland's
aquatic wonderland, paddle-boarding our islands, swimming our beaches and
creeks, and snorkelling our reefs.
We created Welcome to Water to help give your child the best possible start on
their swimming journey, so you too can make swimming a part of your life.
We believe in the magical benefits of having a happy relationship with water
as an infant. Your baby will be safer, healthier and smarter!
It is every parents
job to maintain and grow the newborn's natural affinity with the water.

Swimming kids are happy kids, and happy kids make happy parents.
All the best in your swimming life together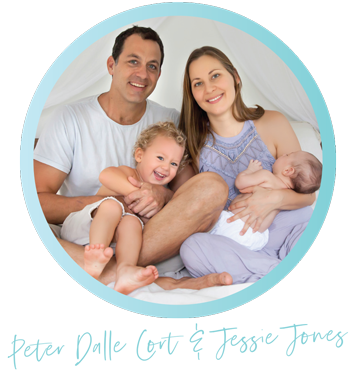 Peter Dalle Cort
Pete was born into, and grew up in the learn to swim industry with his parents starting their first swim school the year he was born.
Pete's first job as a young
teen
was managing the reception at his families swim school business in Ayr. Peter then managed the family's next business, Robina Aquatic Centre, while he was studying at Griffith Uni in 2001. And in 2008 he
went on to establish Essential Skills Swim School, now named Swim Skills -
with Jessie.

He has had the
experience
of owning and
managing
a
variety
of swim
schools
from small and very large commercial centres.
With
school sizes from 30 to over 1500 lessons per week.
Pete strives for positive changes in the industry, in the way infants and children are taught to swim.
Jessie Jones
Jessie is a North Queensland local, growing up in Malanda.

Her love of the NQ lifestyle motivated her to use her business prowess and managerial skills to establish their family business in 2008.


Jessie became highly experienced in teaching swimming over the lifetime of the business. And found a real love of supporting parents with gentle parenting technique interwoven into the swimming lessons.


Upon the birth of their first son, Arje in 2015, Jessie assumed back office, marketing and training duties.
Jessie's great managerial and interpersonal skills are still the backbone to the smooth operation of Swim Skills, while supporting the establishment and growth of Welcome to Water.
Arje & Kyan
The 'Swim School Kids', Arje and Kyan are one of the biggest inspirations behind Welcome to Water.

Even before the boys were born Pete & Jess had an enthusiasm and love for teaching kids to swim, however after Arje's birth, Pete and Jess
truly understood the
benefits of positive and respectful parenting, and the benefits this brings to how infants and children are taught to swim.
The positive impacts on not only the carer/child relationship, but the longer term benefits to the children in many aspects has fuelled the work they are all doing on Welcome to Water.
Frequently Asked Questions
What is Welcome to Water?
We educate new and expecting parents on how to provide a force-free introduction to swimming to their infant. This education starts at home, with our free online course teaching the basics of infant swimming and how to get a start on your swimming journey in the bath.
We link parents with 'Welcome to Water Provider' swim schools in their local area, to participate in a free 5 week – no submersion swim programme for 3-6 month olds.
We train swimming teachers in our force-free philosophy and provide swim schools with policies and procedures to ensure that all babies receive a Welcome to Water -with love.
Why do you offer this course for free?
We want all children around the world to be introduced to water in a safe and loving manner. We have become aware of the use of force in infant swimming lessons, and want to arm parents with some fundamental knowledge on the learn to swim process so they can recognise if these forceful practices are occurring at their chosen swim school.
What swim school should I choose?
Not all swim schools are the same. Our free online course has a module specifically on this subject. You can be sure that if you choose a Welcome to Water providers swim school, that all teachers will be on board with our no-force approach to the learn to swim process.
Do I have to buy anything?
Becoming a member is free! Members receive Free online learning, monthly updates with tips tricks and games related to your child's developmental level, and access to our free swimming program at your local 'Welcome to Water Provider' swim school.
Our online learning suite also has available, for purchase, extra modules, to help you supercharge your infant swimming knowledge.
Subscribe to our newsletter now!
Get weekly updates on live streams, news and more right in your mailbox.